2021 GCA National/Central Specialty
9/17/2021 - 9/19/2021

All taking place at the Purina Farms Event Center in Gray Summit, MO (Outside St. Louis)
Designed exclusively for dog events
Reserved grooming area
Camping available onsite
Climate controlled
Big rings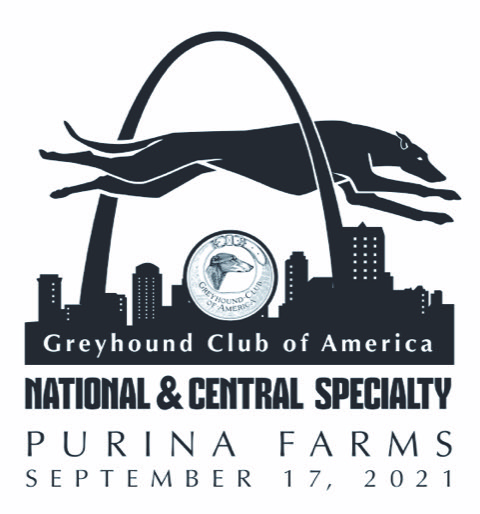 8/26/2020 -- Closing date for conformation shows
9/1/2020 -- Deadline to receive special nightly rate at host hotel

2021 GCA National/Central Specialty
Friday, September 17th 2021
In conjunction with the Gateway Hound Club group show
Conformation judge: Pat Trotter
Sweepstakes judge: Mary Trubek
Show Superintendent:  Foy Trent Dog Shows
TWO GCA Supported entries
Saturday and Sunday, September 18th & 19th 2021
Three Rivers Kennel Club
Show Superintendent:  Foy Trent Dog Shows
AKC and ASFA Lure Coursing
Also at Purina Farms Event Center
GCA 2020 SPECIALTY EVENT WEAR
Stay tuned for details
Trophies -- Trophies will be handmade pottery with Greyhounds in relief

We are accepting trophy donations at 4 levels. Everyone who donates will be listed in our thank you in the catalog. 
If you would like to sponsor and pay through PayPal, click the appropriate button below.
PayPal invoices for different amounts can also be requested from Joan at majikees@cass.net
(Should the event be cancelled, all funds and donations will be used for the 2021 GCA Central/National Specialty in September, same venue)
We hope you will all consider donating to this event and thank you in advance for your generosity.
AKC Conformation \ Obedience \ Rally
Gateway Hound Club -- Two separate shows on Friday, 9/11
Three Rivers Kennel Club -- Saturday, 9/12, & Sunday, 9/13
Mid Kentucky Kennel Club -- Monday, 9/2
GCA Central Specialty will be the classes at the first (of two) Gateway Hound Club group shows on Friday (Sweepstakes and Veteran Sweepstakes also offered)

Premium list coming soon
Lure Coursing
AKC Lure Coursing will be Friday, 9/11, AT Purina Farms following the 2 hound group shows
ASFA Lure Coursing will be Saturday, 9/12, following Three Rivers Kennel Club show
Premium lists coming soon
AKC Pee Wee Class
Saturday, 9/12, for young exhibitors 5 to 9 years of age
Watch for premium list for more details
Picnic by the Pool
Saturday, 9/12
A relaxed, informal evening at the Host Motel
More details coming soon
United Kennel Club Provisional National Show for Greyhounds
This greyhound only show will follow the Three Rivers Kennel Club show on Sunday, 9/13
This show has been cancelled

Hotel Information
Host Hotel:  Budget Lodging (636-629-1000)
866 S. Outer Rd. / St. Clair, MO
20 minutes from the show site!
-- Fenced in grass area for the hounds!
-- All outdoor entrances to rooms
-- Outside swimming pool
-- $99.44/night (2 double beds)
-- $109.44/night (1 king bed)

In order to receive the special nightly rate, reservations must be made prior to September 1st and mention Greyhounds
A $25 PER NIGHT PET FEE WILL BE WAIVED ONLY IF YOU BOOK DIRECTLY WITH THE HOTEL