2022 GCA National/Eastern Specialty Weekend
10/14/2022 - 10/16/2022

Legions Stadium, 2149 Carolina Beach Rd., Wilmington, NC
Join us at our 2022 National Specialty and Specialty Lure Coursing along with a potluck, a beach walk, and a banquet!
8/26/2020 -- Closing date for conformation shows
9/1/2020 -- Deadline to receive special nightly rate at host hotel

2022 GCA National/Eastern Specialty
Friday, October 14, 2022
Conformation judge: Ian Bond
Sweepstakes judge: Robert Urban
Ringside mentoring will be available - more information coming
Show Chair: Brenda Adams
AKC Specialty Lure Coursing
Saturday, 10/15/2022, after breed judging
Judge: Carlee Davies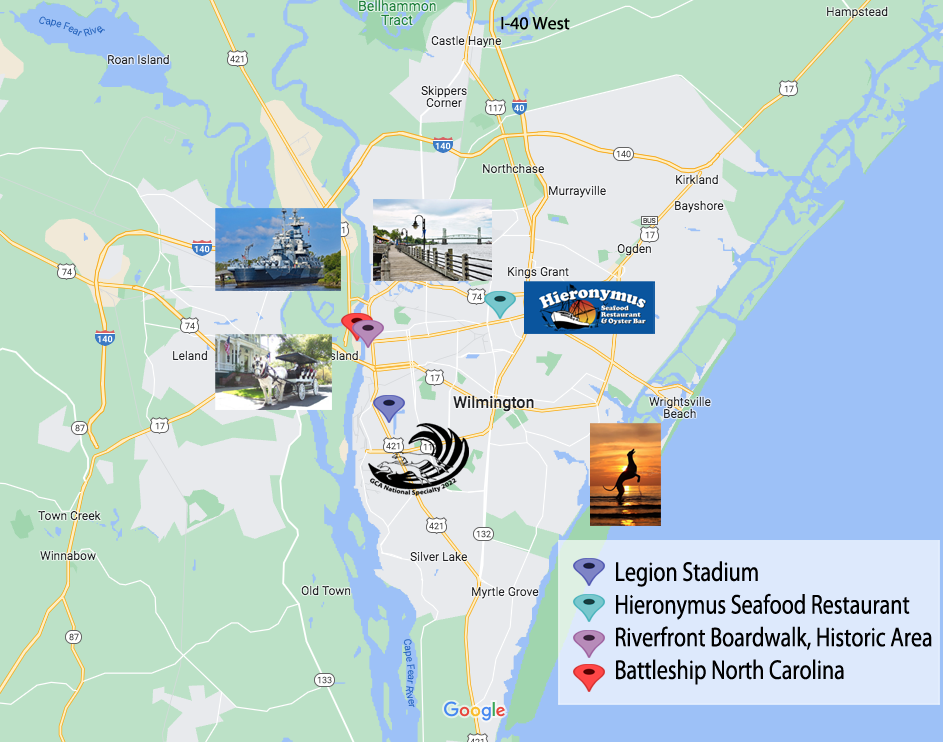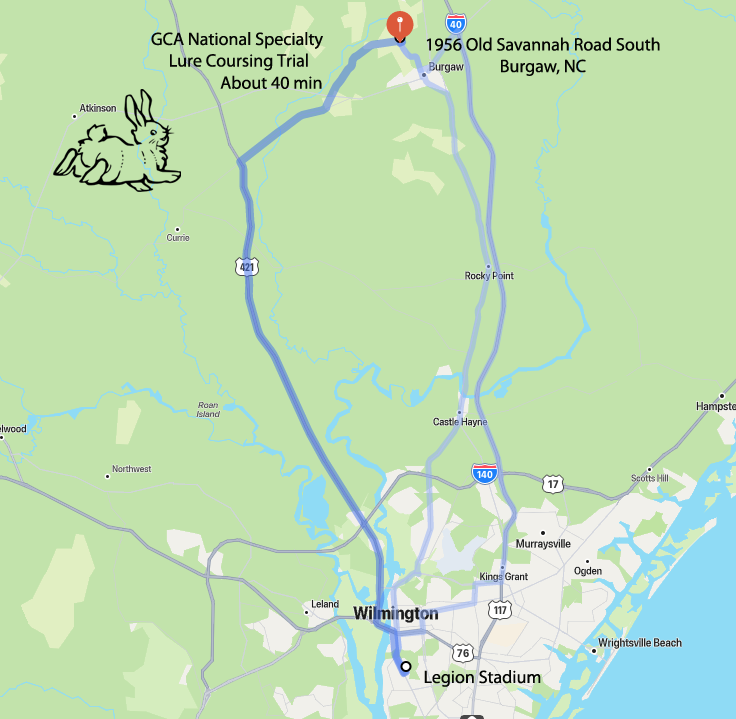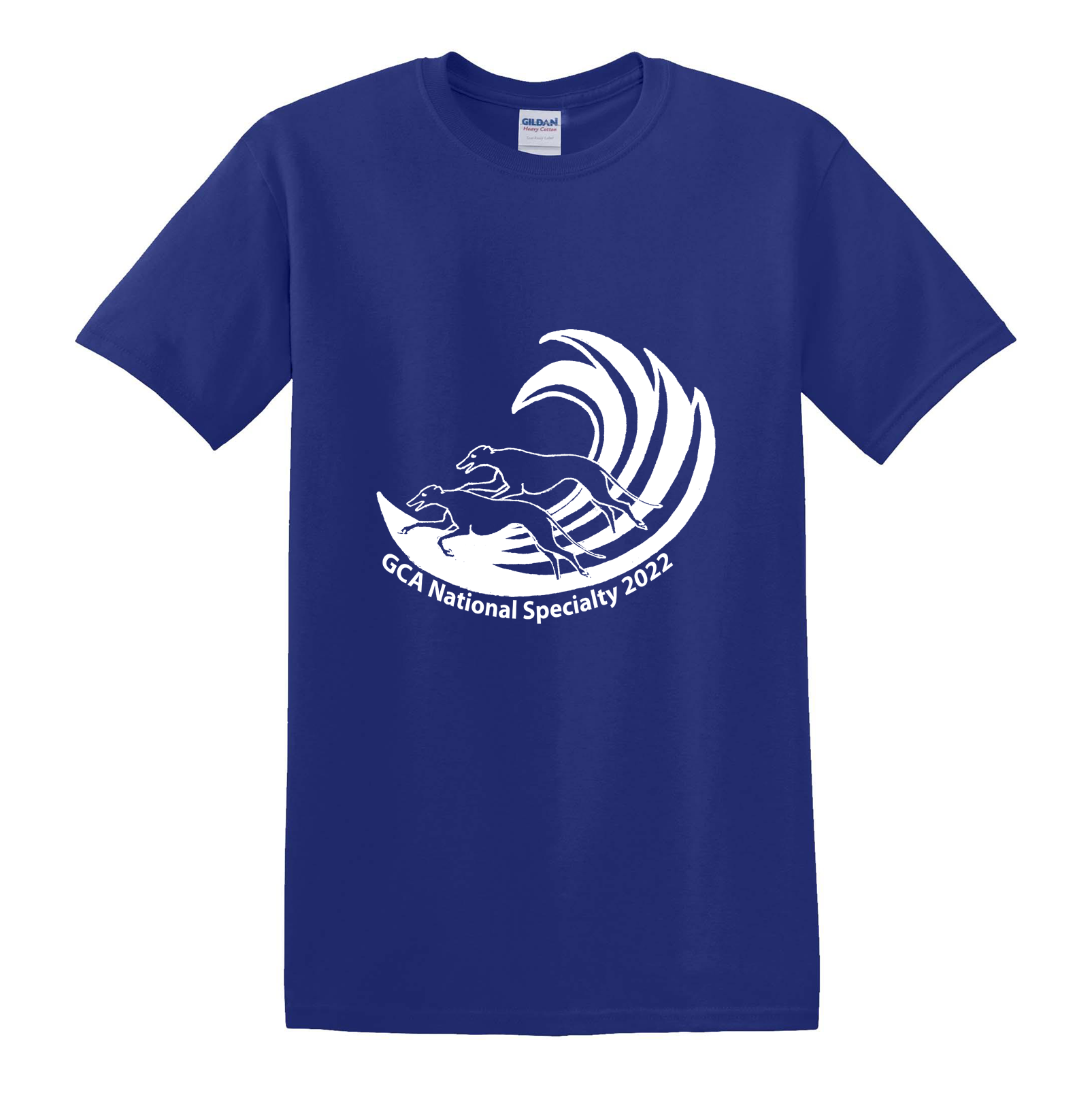 2022 National Specialty T-shirts now available for preorder!
Available in S, M, L XL, 2XL and 3XL
$15 each, available for pickup at the show
Please send orders to Cyndi Swanson
Catalog Ads
Send your catalog ad to Jen Stout
Plus two additional all-breed shows!
Hanover Kennel Club - Saturday, 10/15/2022
Judges:
Breed judge - Frederick Vogel

Hound group judge - Christine Calcinari

BIS judge - Frederick Vogel

NOHS Hound judge - David Kirkland

HOHS BIS judge - Christine Calcinari
Show Superintendent:  MB-F
Hanover Kennel Club - Sunday, 10/16/2022
Judges:
Breed judge - Christine Calcinari

Hound group judge - Frederick Vogel

BIS judge - Sherry Webster

NOHS Hound judge - Robert Gifford

HOHS BIS judge - Stephanie Hedgepath
Show Superintendent:  MB-F
Trophies -- Trophies will be handmade pottery with Greyhounds in relief

We are accepting trophy donations at 4 levels. Everyone who donates will be listed in our thank you in the catalog. 
If you would like to sponsor and pay through PayPal, click the appropriate button below.
PayPal invoices for different amounts can also be requested from Joan at majikees@cass.net
We hope you will all consider donating to this event and thank you in advance for your generosity.
Schedule
Subject to change
National Specialty
GCA potluck lunch
Beach walk after judging
Friday evening banquet at Hieronymus
Hanover Kennel Club all breed show
GCA Specialty Lure Coursing after breed judging
Hanover Kennel Club all breed show
Hotel Information
Host Hotel:  The Wildwood Hotel (636-733-9100)
2801 Fountain Place / Wildwood, MO
20 minutes from the show site!

Call hotel directly and ask for Greyhound Group for special price of $138
-- 2 queen beds or 1 king bed
-- Breakfast included
-- One time pet fee: $30 for 1-2 dogs in room; $60 for 3-4 dogs in room
MAKE YOUR RESERVATIONS NOW!
There is a very Limited number of rooms are available at the host hotel!
RV Parking Reservations
RV reservations are only accepted for those entered (or those who have dogs/cats entered) in an event that has contracted space which includes the overnight camping lots. Upon request, participants must be prepared to show proof of event entry upon arrival at Purina Farms.
RV reservations must start no earlier than 9/12/2021 and must end by 9/20/ 2021. Please email this request form to rvparking@purina.nestle.com by 8/29/2021. All requests must be RECEIVED by 8/29/2021 in order to be considered. There is a nightly charge of $40 in the Full-Service Purina Event Center Lot  and $25 in the Electric Only Main Show Field RV Lot. Reservations need to be paid in full within 2 days of receiving a confirmation email. Full payment by credit card must be received before the space can be confirmed and finalized. Credit cards only.
Once the RV Reservation Request Form is sent in, an RV Specialist will get back to the requestor via email within 3-5 business days to let them know if we are able to accommodate their request. 
You will receive a call from Purina Farms - 314-982-5220 or 314-982-5217 – within 5 business days to collect payment. You will then have 2 days (48 hours) from our initial contact to respond and issue payment. If we are unable to collect payment within the 48 hours, then the request will be voided and the space will be released. You will receive a reminder email immediately after our initial contact by phone if we are unable to reach you. The 48 hours will be determined based on the date of the sent email. Spaces are not confirmed until payment is received. At that time, you will receive a confirmation email that must be presented to Purina Farms security upon arriving on property. 
Spaces are non-refundable if not cancelled more than 3 days out from the first date of the reservation. They are also non-transferable.
Check-in time is 3 PM on the arrival date and check-out time is 12 PM on the departure date. If you need additional time beyond 12 PM you will need to rent another night to ensure availability for your space.
Please note that after 12 PM, all RVs that do not have a reservation for the next day will be contacted and requested to please move their RV immediately to day parking or a holding lot if available.  At 3 PM, if RVs are still in place without a reservation, Purina Farms will issue a charge, per RV in violation, to the hosting Club.
Contact the RV Specialist at rvparking@purina.nestle.com or (866) 979-2488 with any questions about overnight camping in the Purina Farms RV lots.
Please check the overall guidelines  as well as the general guest rules.   Also, you may view the Purina Farms map featuring the locations of the 2 RV lots on property.