Home: Activities: Agility
Greyhounds in Agility
"Whisper"
CH MACH Aragon Lunar Eclipse VCD2 TDX RE OF JC
Whisper is the first AKC registered Greyhound to earn the MACH title.  MACH stands for "Master Agility Champion".  She was trained by breeder/owner Dr. Helen Hamilton.  To earn a MACH title, a dog has to compete at the highest level of agility (Excellent class), earn 750 points based on time scores, and qualify in both the Jumpers and Standard classes in the same day 20 times.  Whisper's march to the title was interrupted by motherhood, and she returned to the ring to earn her last set of qualifying scores only nine weeks after her pups were born, earning her MACH title.  Whisper is currently working on her next title the MACH2.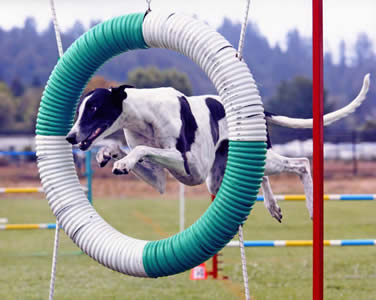 In addition to her Agility title, Whisper has earned the title of conformation champion, CH, and is the first Greyhound to earn the AKC's coveted Versatile Companion Dog title, VCD2.  Whisper and Dr. Hamilton are now working towards MACH2 and VCD3 titles.
AGILITY
Agility is a popular sport that people and dogs from all walks of life participate in. It is a timed obstacle course where the dogs go over, under, around and through a course as directed by their owners. The obstacle course is comprised of climbing obstacles (dog walk, A-frame, teeter, table), jumps, tunnels, and weave poles. Handlers and dogs alike vary in size, shape, age, fitness, and skill. Anyone can play the Agility game including Greyhounds!
Dogs enjoy Agility as much as their owners. Speed, agility and the willingness to be directed are requisites for the sport. It doesn't hurt to have an athletic owner as well!
The American Kennel Club offers 3 different Agility competition classes (Standard, Jumpers with Weaves, and FAST). The Standard class contains all of the climbing obstacles and the Jumpers with Weaves class includes only jumps, tunnels, and weave poles. The FAST class may contain all or some of the obstacles and it is up to the handler to design and implement a strategy for the given obstacles that accumulates the most points.
Each Agility class offers 3 levels of difficulty (Novice, Open, and Excellent). Each dog begins in Novice, but moves into the Open class once 3 qualifying runs have been completed in Novice. The same goes for Open and Excellent. The highest Agility title is the Master Agility Champion, and yes, there are Greyhounds that have earned this title! Greyhounds respond very well to positive training methods and there are quite a few Greyhounds currently competing.
The best way for you and your Greyhound to get started is by taking an Agility class. You and your Greyhound can learn a lot by taking a class once a week. Taking classes does not mean that you have to compete. It does, however, give you some guidance from an expert, so you know how to handle and direct your Greyhound through a sequence of obstacles. Being able to smoothly direct your Greyhound over several obstacles in a row is exhilarating. An Agility instructor can help you achieve that, and it is important that the dog be introduced to obstacles in a safe manner. A class also gives you and your Greyhound the opportunity to play on all of the Agility obstacles without having to buy them yourself. You can take classes for a couple of months or for several years. The main point is to just have fun.
Some Greyhound lovers are competitive and enjoy competing Greyhounds at Agility trials. Others simply enjoy the exercise and socializing of a weekly Agility class. Some Greyhound lovers limit Agility to a few jumps in the backyard. The choice is yours. You may say, "my Greyhound could never do that". If your Greyhound likes food, or has a favorite toy,he or she can learn to pop over a couple of jumps and climb some obstacles. You will never know until you try.