Welcome to the Greyhound Club of America website!
The Greyhound Club of America is the national breed club for Greyhounds within the American Kennel Club. The GCA promotes responsibility breeding of Greyhounds as well as training and showing in a variety of venues.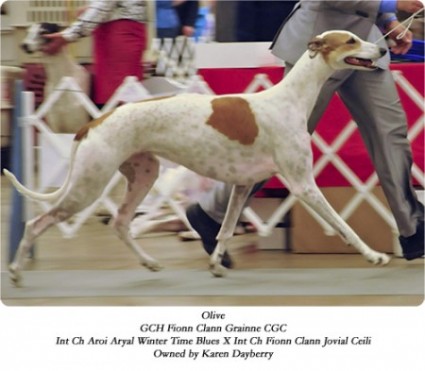 The Greyhound is a large sighthound. They are both elegant and athletic and also affectionate and gentle. However they are also capable of great intensity during sporting events. Historically, the Greyhound is a very old breed, probably originating in the eastern Mediterranean region and has been used to course a variety of game over a variety of terrain at extreme speed for thousands of years. The breed was first recognized in this country by the American Kennel Club in 1885.
The GCA is the parent organization that oversees most recognized Greyhound activities in the United States. The GCA unites people interested in breeding and competition, and improving and preserving the health and character of the breed for the purposes of showing, coursing, agility, obedience, etc.  in addition to pet ownership. It is also responsible for promoting good sportsmanship at events that are held under its auspices.
Here you can learn about Greyhounds as both companions and competition dogs, and about the breed's history, temperament traits, and overall health and care. You can also learn more about Greyhound activities and upcoming events, and about our club, with resources to connect with breeders and fellow Greyhound fanciers.
We hope you will enjoy your visit to the Greyhound Club of America website!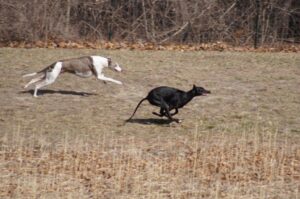 Their beauty and attitude is what drew me to Greyhounds. Watching them run is truly a thing of beauty, whether they be young or old. They are smart and exceptional hounds that do enjoy working alongside their masters. You really cannot ask for a better dog.   —  Annemarie Pack
2016 Central Specialty

The 2016 GCA Central Specialty is now over and we would like to contratulate
 Faith Burnham
and
GCH DC Windrock Easy Money SC (Rowan)
for their Best in Specialty win!
Faith and Rowan also won Best Owner Handler as well as Owner Handler Group 2!
Faith Burnham
and
DC Windrock Batoutahellius SC (Sonic)
for their Specialty Lure Coursing High in Trial!
 GCA 2016 Western Specialty / GCA National Specialty
Friday, July 29, 2016 — Lompoc, CA

---
Specialty Lure Coursing
Greyhounds only lure trial on Saturday, July 30th beginning at 1 p.m. All sighthound breeds for QCs and JCs.
Trial site is Cabrillo HS Athletic Field, Vandenburg Village, CA. (6.7 miles from Ryon Park, approximately 15 minute drive.) Bring your own shade and plenty of water for your Greyhound. Weather can be warm.
Judge – Mike Hussey
Click here for lure coursing premium list
Contact Elissa Thompson (505-250-0935) for information about the trial
Specialty Luncheon

To be held after the Specialty on July 29th!
Contact Beth Anne Gordon to make reservations and/or more information
2016 Eastern Specialty — Wednesday, October 5, 2016
---
Conformation judge: Gail Burnham
Sweepstakes judge: Lois Bires
Macungie Memorial Park
Route 100
Macungie, PA.
Superintendent:  Jim Rau Dog Shows
Hotel Information
Ramada Whitehall/Allentown
1500 Macarthur Rd.
Whitehall, PA,18052
10 non-smoking double queen rooms & 10 non-smoking king bedded rooms at a group rate of $64.99 plus 10% tax per room per night (for either room type).  Rate includes continental breakfast with two hot items daily.  As a special offer, our nightly $20 plus tax pet fee per room will be waived.
Reservations are to be made with our front desk by calling (610) 439-1037 by 9/22/2016, in order to receive this special rate.  After this cut-off date, the group rate and rooms might not be available.
Greyhounds in America

Greyhound Book (Volume 1, 2nd Printing) – $75

Interested in a Greyhound puppy?

AKC greyhound breeders are a small group and it is not unusual to have to go outside your area for a puppy. That means building a relationship over the phone with the breeder and through networking with others who may have bought a puppy from this breeder previously. The breeder should be happy to supply you with those contacts. Contact our Breeder Referral.

Memorials

Visit our Memorial Page to see tributes to Greyhounds that have passed.

To add a memorial to your Greyhound email a photo as well as the dog's registered name, call name, sire and dam (if known), and a short tribute to Joan Malak
---
This breed is so underrated. They are sweet, clean, smell good! and are funny. But you had better have a fenced yard. This is one of the best breeds to own. — Susan Cassem
---
They have a sense of humor and make me laugh. — Elaine Miller Summerhill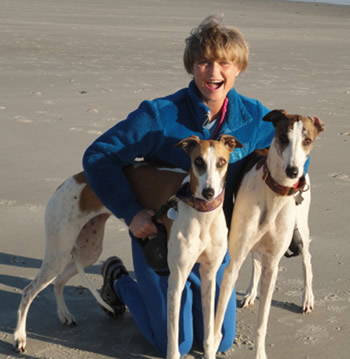 Living with a Greyhound is like living with of beautiful piece of art. — Anita Rodriguez Pugh